Login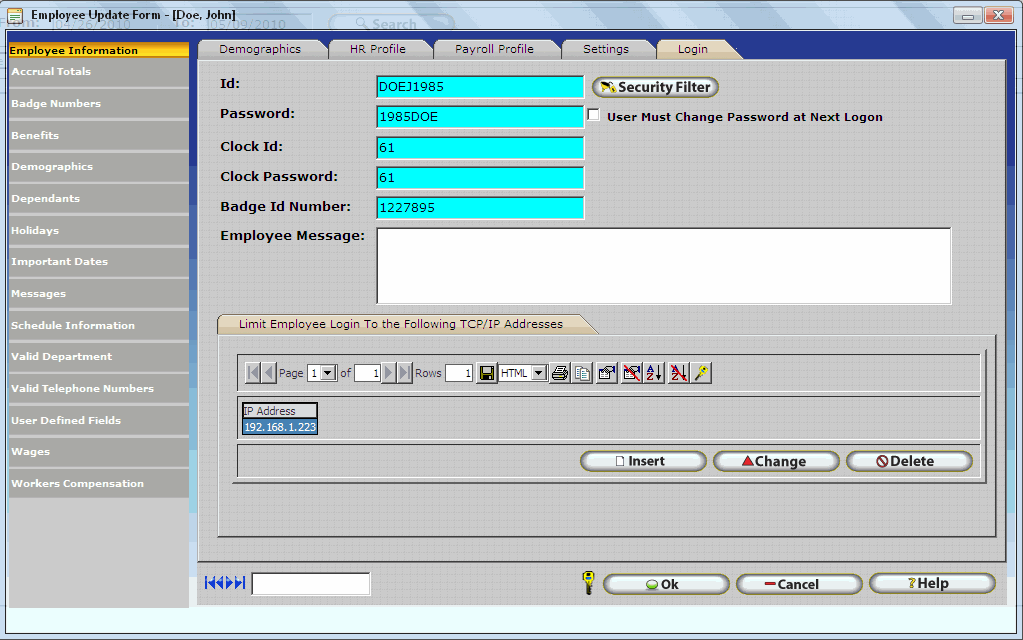 The login tab displays employee login information. This information is used to logon to the InfiniTime software and clock in or out of work using the InfiniTime Employee Module. More information is provided below.
ID and Password: These fields are required. You can either ask your employees to provide you with an ID and password or designate one for them.  The ID and Password should be easy for the employees to remember. These fields will accept any characters, (alpha or numeric) or a combination of characters. However, if you are using hardware clocks the ID and Password must be numeric. Each employee must have a unique ID.
InfiniTime™ Timeclock Hardware Users
Badge ID Number:  Enter the employee's barcode or magstripe badge number in this field to assign that card to the employee. All digits of the number must be included for the system to identify the card and employee.  If the card has a pair of asterisks, do not include the asterisks.
Technical Note: The Badge Field will not be displayed if the software license has a badge reader count of zero (0).
 The login ID is used to clock in and out on the Scout Hand readers and also if you are doing PIN entry on any of the SYNEL clocks available or the Zephyr clock.  

If you are using the SYNEL clocks or Zephyr clock to clock in/out you need to make sure that all login ID and Passwords do not contain alphas meaning letters they need to be numeric.
User Must Change Password at Next Logon:  this checkbox if checked it will force the employee to change their password next time they log into the software whether they are login into the manager module, employee module, or escort.
Limit Employee Login to the Following TCP/IP Addresses: In this section you can enter different TCP/IP Addresses of computers this specific employee can access the software you can read more about the valid IP addresses in chapter two.