Update Bios From File
Bios updates which include additional functionality are periodically available for the Luna Reader. The Luna Bios can be updated manually by placing the configuration file provided by Inception Technologies on a thumb drive and following the procedure provided below.
Retrieving the Latest Bios File
The Luna Bios is specific to each version of InfiniTime. The Bios file, emfw.cfg is located within the InfiniTime Installation directory within the ZKSoftwareProg folder. The location of this file is C:\Inception\InfiniTime\InfiniTime7\ReaderData\ZKSoftwareProg\emfw.cfg assuming the default installation directories were used. The Bios file must be placed on a USB Thumb Drive in order to update the Bios on a Luna reader manually.
Updating the Bios on the Luna Reader
Place the bios file, emfw.cfg, on a USB Thumb Drive alone. Ensure there are no other files present on the thumb drive before continuing with this procedure.
Plug the gray Mini-USB Cable, provided with the Luna Terminal, into the mini USB port on the bottom of the Luna.
Plug the USB Thumb drive into the USB side of the Mini-USB cable.
Press the Menu button on the Luna Terminal. If an administrator is present in the clock the user will be prompted to enter their ID and Password before the menu will be displayed.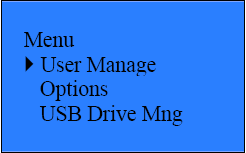 Use the down arrow to move down to Options and press OK.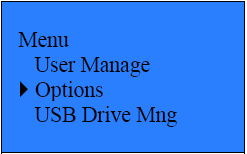 Ensure System Opt. is highlighted and press OK.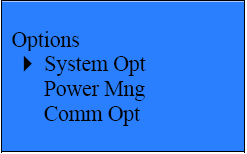 Use the down arrow to move down to Adv Option and press OK.