Reader Settings - USB Scanner Settings
The Thor Terminal provides support for a USB Bar Code Scanner for Job Costing Purposes. The Bar Code Scanner, available from Inception Technologies, plugs directly into the USB Port on the side of the Thor Terminal. Barcode Badges used with the Job Cost Scanner are generally printed by the user. For example the illustration below depicts a Code 309 Barcode 12 digits in length. The settings below show the first six digits as an Employee ID, the next two digits as a Department Number, the next two digits as a Job Number, and the last two digits as a Task Number.

Note: Each item in the badge must match an Employee ID, Department Number, Job Number, and Task Number within the InfiniTime Software.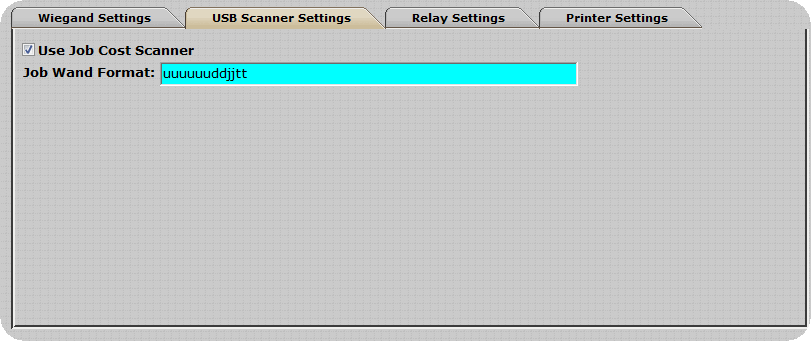 Use Job Cost Scanner - This option should be checked if you are using the USB Bar Code Scanner for Job Costing.
Job Wand Format - The job wand format consists of four(4) different parts
User ID - u

Department Number - d

Job Number - j

Task Number - t
In the example above, the format uuuuuuddjjtt equates to a 6 digit Clock ID, 2 digit Department Number, 2 digit Job Number, 2 digit Task Number. Employee Login IDs, Department Numbers, Job Numbers, and Task Numbers must be configured to match the numbers used by your badges in order for employees to use the Bar Scanner.
You can specify what your barcode will look like by arranging the order and digits of each of the parts.
For Example:
If you want the barcode to read 6 digit user id, 4 digit department number, 4 digit job number and 4 digit task number you will type: uuuuuuddddjjjjtttt
If you want the barcode to read 4 digit department number, 6 digit user id, 4 digit job number and 4 digit task number you will type: dddduuuuuujjjjtttt